Water Tank Retort (Double Tank)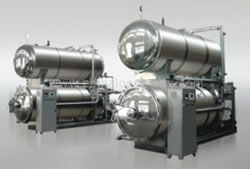 Characteristics
1. Uniform heat distribution, no dead angles
The circulating water in the double tank water tank retort continuously flows toward the up, down, left and right directions, thus making sure that every point in the retort gets the same temperature during the heating, temperature preservation and cooling processes. Therefore, the packed food in different position of baskets will be heated uniformly, effectively preventing the dead angles in the sterilization processing, which make sure the uniformity of temperature and heat exchange, lower the possibilities of over cooking and guarantee accurate F value.
2. High temperature and short time sterilization
This water tank retort adopts the double tank cycled hot water to sterilize. Firstly, it heats up the water to the required temperature in advance (except the multi period sterilization), thus shortening the sterilization time and achieving higher efficiency.
3. High sterilizing temperature
Designed based on the latest technology, this water tank retort utilize recycling hot water to sterilize. During the sterilization processing, all the data like temperature, pressure, sterilization time, water and air, etc. are automatically controlled. The floating temperature is controlled to higher or lower than 0.5℃ at most.
4. Energy saving
The medium water used during the sterilization can be used repeatedly, thus saving the energy, time, manpower and materials, and reducing the whole production cost.
5. Fully automated system
A. controlling through the touching screen and PLC
B. Controlled by the digital reactor and automatic valves during all the periods
C. This water tank retort can fulfill the multi-period sterilization according to the technical requirements.
D. Pressure and temperature are digitally displayed.
E. All the processes can be recorded to the disks.
F. There are various sterilization modes pre-set for you to choose from. A maximum of 250 sterilization formulas are available. The whole sterilization processing is fully automated. So, our water tank retort is a labor saving sterilization solution.
6. This double tank water tank retort adopts the simulated temperature controlled system, so users can set multi-period heating modes.
According to different requirements of different food products, users can set different heating and cooling procedures, and use the multi period heating sterilization mode and secondary cooling mode.
7. F value measuring function (optional)
Each set of water tank retort can be designed with F value measuring function .Being treated by the data processing software, all the sterilization data, including sterilization conditions, F value, time-temperature curve and time-pressure curve will be saved or printed, which offers convenience to production management.
Technical parameters of Water Tank Retort (Double Tank)
Item
Unit
Configurations
Diameter of tank body
mm
¢1100
¢1300
¢1500
Number of basket
4
4
4
Maximum working pressure
Mpa
0.35
0.35
0.35
Maximum working temperature
℃
137
137
137
Steam pressure
Mpa
0.6
0.6
0.6
Steam consumption
Kg/ cycle
300
400
500
Pressure of cooling water
Mpa
0.3
0.3
0.3
Consumption of cooling water
M3/ cycle
4~6
5~8
8~12
Consumption of compressed air
M3/min
0.6~0.8
0.6~1.0
0.8~1.2
Power
KW
18
26
30
Overall dimension
LxWxH(mm)
5800x1900x3600
5800x2000x4000
5800x2200x4400
Note: we can design full water tank retorts according to customer's request.
Wenzhou Longqiang Dairy Machinery Factory is a major water tank retort manufacturer based in China. We specialize in providing dairy production lines, water production lines, sterilizers, stainless steel vessels, and filtering equipment, and so on. Relying on high quality and reasonable price, our dairy process equipment has been exported to Canada, Kazakhstan, Japan, Malaysia, Myanmar and many other countries.
For orders and inquiries, please feel free to contact us. We look forward to working with you.
Related Names
Autoclave | Steam Retort | Food Sterilizer | Retort For Caned Food