Water Treatment Equipment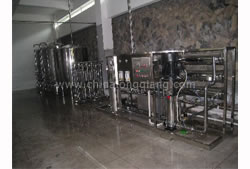 Water Treatment Equipment
The water used in the production of dairy, food and beverage, has great importance to the product quality. Our company designs and makes the water treatment equipment according to the water character in the dairy, food and beverage industries. It is of low energy cost, steady operation and compact structure. Commonly used water treatment equipment includes: mechanical filter, active carbon filter, masculine and feminine elements ionic exchange column, pressure adding pump, precise filter, hollowed super fiber filter, anti-filtration machine, Edi electronic salt removing system, electric analyzing system, sterilizer, motor controlling and box. These can be combined to order or the local water condition.
We can design the water treatment equipment according to the raw water report provided by customers.
Wenzhou Longqiang Dairy Machinery Factory is a professional water treatment equipment manufacturer based in China. Since our established in 1984, providing high quality food process equipment has been our priority. We adopt strict quality control system, and we are approved by ISO9001:2008. Our products, such as food sterilization equipment, sanitary stainless steel equipment, dairy production lines, beverage production lines, water production lines, and concentration equipment, and more, have high quality and competitive prices. They are exported to Canada, Russia, Kazakhstan, Japan, Malaysia, Vietnam, the United Arab Emirates and many other countries.
We welcome you to browse our website or contact us for more detailed information.

Related Names
RO Water System | Mechanical Filter | Carbon Filter | Cartridge Filter | Reverse Osmosis System | Pure Water Tank