Ice Cream Production Line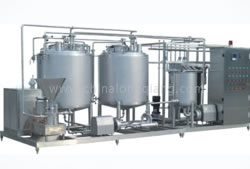 Ice Cream Production Line

The whole ice cream production line consists of the following units:
1. Water Treatment system
2. Mixing and Sugar Melting tank
3. pasteurizer and Homogenizer
4. Aging tanks
5. Freezer and Filling Unit
6. CIP Cleaning System
7. After Treatment Equipment, like conveyor, package or pallet, etc.
8. There are other assistant equipments used such as steam boilers, air compressor, cold water unit, etc.
9. Installation materials for the process pipline, utility piplines as well as electrical system are provided.
Specifications of Ice Cream Production Line
1. Features: compact structure, small land area, High heat recovery, energy-saving and simple operation.
2. Capacity: 500-10000L/H
3. Sterilization temperature: 85-95℃
4. Temperature of product outlet: 6-10℃
5. Control mode: manual, semi-auto, automatic (PLC controller, touch screen display).
6. Our company can design the production lines in accordance to the customers' requirements.
7. Filling types can be decided by the customer then designed accordingly.
Parameters of Ice Cream Production Line
Wenzhou Longqiang Dairy Machinery Factory is an experienced ice cream production line manufacturer based in China. We adopt advanced production equipment and technologies, and manufacture milk powder production lines, beverage production lines and biopharmaceutical production lines, and more, strictly according to ISO9001:2008 quality management system. Our dairy machines is of high quality and reasonable price. You can find our products throughout Nepal, Panama, Chile, Algeria and the United Arab Emirates, and many other countries.
For orders and inquiries, please contact us at Wenzhou Longqiang Dairy Machinery Factory. We look forward to providing good service to our valued customers.