Animal, Plant Extraction, Concentration, Recovery Line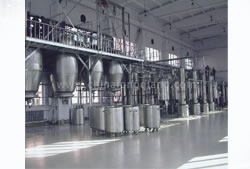 Function
The animal, plant extraction, concentration, recovery line serves for extracting useful components from vegetable and herbal medicine, China traditional drug, animal, food additives, etc. by using water, ethanol, methanol and acetone, etc. as the solvent. It can also be used to recycle and concentrate the organic solvent.
Technical parameters
Extraction tank volume: 1m3, 2m3, 3m3, 6m3
Evaporation tank volume: 0.5 m3, 1m3, 1.5 m3, 2.5 m3
Water extraction temperature: 90-100℃
Alcohol extraction temperature: 78-83℃
Extraction time: 5-6hour/lot
Vacuity: 0.05-0.08Mpa
Working pressure: 0.08-o.2Mpa
Working principle
Put the drug material into the extraction tank and insert the solvent such as water, ethanol, methanol and acetone, etc (in accordance with the technology requirement) whose capacity is five to ten times of the drug material. Open the steam valve of extraction tank or the jacket to heat the extraction liquid until the boiling lasts for about twenty to thirty minutes. Then the one third liquid will be pumped to the evaporator. Close the steam valve and open the valve of the heater to concentrate the material liquid. The secondary steam produced during evaporation will enter intothe extraction tank to serve as the heat source and solution for extraction to maintain the boil inside the tank.
Longqiang Dairy Machinery Factory is a professional China-based animal and plant extraction, concentration, recovery line manufacturer and supplier. In addition, we also provide ice cream production lines, beverage production lines, sterilizers, stainless steel pumps and filers, and more. Presently, our products are exported to Canada, Russia, Japan, Malaysia and Panama, and many other countries.
For more information on our dairy process equipment, please feel free to contact us at Longqiang Dairy Machinery Factory. We look forward to offering good service to you.