Milk Powder Production Line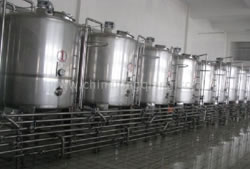 Milk Powder Production Line

The whole milk powder production line consists of the following units:
1. Milk Reception or Powder Dissolving Mixing Section
2. Mixing and Sugar Melting tanks
3. Pasteurizer and Homogeniser
4. Milk Storage or Yogurt Producing Unit
5. Falling film Evaporator
6. Spray dryer
7. Filling or Packing machine
8. CIP Cleaning System
9. After Treatment Equipment, like conveyor, package or pallet, etc.
10. There are other assistant equipments used such as steam boilers, air compressor, cold water unit, etc.
11. Installation materials for the material pipes, no-material pipes as well as electrical system are provided.
Specifications of Milk Powder Production Line
Capacity of plant: 2T-300T/D.
Products type: 1 or 2 or more kinds.
Filling types can be decided by the customer then designed accordingly.

Our company can design custom production lines in accordance to the customers' requirements.
Wenzhou Longqiang Dairy Machinery Factory is a major milk powder production line manufacturer and supplier based in China. Our food processing machines mainly includes dairy processing line, ice cream production lines, juice production lines, bottling water production lines, food sterilization machines and sanitary stainless steel vessels, and more. They are widely used in food, beverage, and biopharmaceutical industrial. Relying on high quality and competitive prices, our products are exported to Myanmar, Vietnam, Nepal, Panama, and the United Arab Emirates, and many other countries.
If you are interested in our products, please feel free to contact us at Wenzhou Longqiang Dairy Machinery Factory. We look forward to working with you.