Condensed Milk Production Line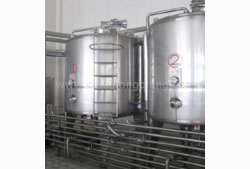 Condensed milk production line, there are two kinds, sweet condensed milk production line and non-sweet condensed milk production line.
The whole condensed milk production line consists of the following units:
1. Milk Reception or Powder Dissolving Mixing Section
2. Mixing and Sugar Melting Section
3. Pasteurizer and Homogenizer
4. Milk Storage or Yogurt Producing Unit
5. Vacuum Concentration Equipment
6. Crystal Tanks
7. Filling or Packing Unit
8. CIP Cleaning System
9. After Treatment Equipment, like conveyor, package or pallet, etc.
10. There are other assistant equipments used such as steam boilers, air compressor, cold water unit, etc.
11. Installation materials for the material and non-material pipes as well as electrical system are provided.
Specifications of Whole Production Line
Capacity of plant: 2T-300T/D.
Products type: 1 or 2 or more kinds.
Filling types can be decided by the customer then designed accordingly.
Our company can design the production lines in accordance to the customers' requirements.
Condensed Milk Production Process
Inspection on raw milk → Milk clarification → Cooling → Standardization → Pre-heating → Homogenizing → Sterilization → Evaporation → Cooling and crystallizing → Filling → Secondary sterilization
Thanks for your visit to Wenzhou Longqiang Dairy Machinery Factory via internet. We specialize in manufacturing a wide range of dairy process equipment, such as milk production lines, yoghurt production lines, fruit juice production lines, retort sterilizer, pasteurizer and sanitary stainless steel vessels, etc. Our products are produced strictly according to ISO9001:2008 quality management system and they can be widely used in dairy, food, pharmaceutical, light industry, and other industrial.
For orders and inquiries, please contact us at Wenzhou Longqiang Dairy Machinery Factory. We look forward to providing good service to you.