Soft Drink Production Line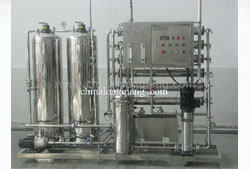 Soft Drink Production Line

Soft drink production line is composed of plate heat exchanger, water powder mixer, syrup filter, packaging machine, and anti-infiltration machine, and it is mainly used for producing soft drinks. It features compact structure, high efficiency and good performance. Additionally, we can design custom soft drink production lines in accordance to customer's request.
Wenzhou Longqiang Dairy Machinery Factory is a major liquid food production line manufacturer and supplier based in China. We can not only provide a wide range of high quality milk production lines, water production lines, biopharmaceutical production lines, stainless steel vessels, filters, sterilizers and stainless steel pumps, and so on, but also offer excellent service to you. Thus, our products have been exported to Africa, Kazakhstan, Japan, Malaysia, Myanmar and the United Arab Emirates, and many other countries.
Should any of these items be of interest to you, please feel free to contact us.