Soy Milk Production Line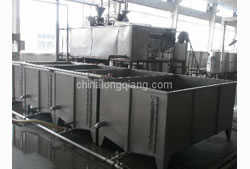 Soy Milk Production Line

Soy milk production line is mainly used to produce soya milk products, etc. This line uses raw soybean or soya powder as raw material. After pasteurizing and homogenizing, the final products are of flavored taste. Most important of soy milk plant is to remove the bean smell, and the vacuum deaerator is surely necessary. Additionally, we can design production lines in accordance to the customers' requirements.
Soy milk production line may consist of following ancillary machines:
1) Screening machine and soaking machine
2) Grinding machine , mixing machine, and filtering machine
3) Homogenizer, pasteurizer and deaerator
4) Secondary sterilization using Retort sterilizer or sterilizing tunnel.
5) Filling machine and packing machine
6) CIP system and others
Wenzhou Longqiang Dairy Machinery Factory is a professional soy milk production line manufacturer and supplier based in China. In addition to dairy production lines, we also produce juice and beverage production lines, biopharmaceutical production lines, stainless steel vessels, food sterilization equipment and water production lines, and so on. We not only devote to providing high quality, low priced dairy process equipment, but also offer good service to our valued customers. Thus, our products are popular among Chile, Algeria and the United Arab Emirates, and many other countries.
We welcome you to visit us and try our soy milk production lines. For purchase, please contact us at Wenzhou Longqiang Dairy Machinery Factory. We look forward to working with you.