Rotary Retort (Double Tank)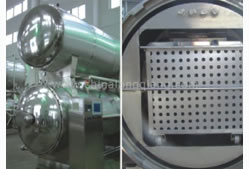 Characteristics
1. Uniform heat distribution, non dead angle
The circulating water in the double tank rotary retort continuously flows toward the up, down, left and right direction, thus making sure that every point in the retort gets the same temperature during the heating, temperature preservation and cooling process. Therefore, the packed food in different position of baskets will be heated uniformly, effectively preventing the dead angle in the sterilization processing , which make sure the uniformly of temperature and heat exchange, lower the possibilities of over cooking and guarantee accurate F value.
2. High temperature and short time sterilization
This rotary retort adopts the double tank cycled hot water to sterilize. Firstly, it heats up the water to the required temperature (except the multi period sterilization), which helps shorten the sterilization time and realize higher efficiency.
3. High sterilizing temperature
Manufactured by using the latest technology, this rotary retort utilizes recycling hot water for sterilization. During the sterilization processing, all the data such as temperature pressure, sterilization time, water and air, etc. are automatically controlled. The temperature control accuracy is controlled within in ±0.5℃.
4. Energy saving
The medium water used during the sterilization can be used repeatedly, thus saving the energy, time, manpower and materials, reducing the whole production cost.
5. Fully automated system
A. Controlling by the touching screen and PLC
B. Controlled by the digital reactor and auto valve during all the period
C. This rotary retort can fulfill the multi period sterilization according to the technical requirement.
D. Pressure and temperature are digitally displayed
E. All the processing are recorded to the disks.
F. There are various sterilization modes pre-stored for users to choose from and there is a maximum of 250 sterilization formulas available.
G. This rotary retort adopts the analog temperature controlled system, so customers can set multi period heating mode.
According to different requirements of different food products, users can choose different heating and cooling process, as well as use the multi period heating sterilization mode and secondary cooling mode.
H. F value measuring function
Each set of double tank rotary retort is available with the F value measuring function. Being treated by the data processing software, all the sterilization data, including sterilization function condition, F value, time-temperature chart and time-pressure chart will be saved or printed, which offers convenience to production management.
6. The rotary retort adopts the pneumatic pressed sets, guaranteeing the safety of food product as well as maintaining the equipment function.
Technical parameters of Rotary Retort
Item
Unit
Specification
Diameter of tank body
mm
¢3100
¢1500
Number of basket
4
4
Maximum working pressure
Mpa
0.35
0.35
Maximum working temperature
℃
137
137
Rotary speed
r/min
3-8
3-8
Steam pressure
Mpa
0.6
0.6
Consumption of steam
Kg/ cycle
300
380
Pressure of cooling water
Mpa
0.3
0.3
Consumption of cooling water
M3/ cycle
5~10
8~12
Consumption of compressed air
M3/min
0.6~1.0
0.8~1.2
Power
KW
13
15
External dimension
LxWxH(mm)
560x2100x3700
5600x2200x4100
Note: Our rotary retort is customizable.
Wenzhou Longqiang Dairy Machinery Factory is a professional double tank rotary retort manufacturer based in China. They are of high quality and competitive price, and have attracted many clients from all over the world, such as Malaysia, Myanmar, Vietnam, Nepal, the United Arab Emirates and many other countries.
Should any of these items be of interest to you, please feel free to contact me. We look forward to providing superior quality products and excellent service to you.