Milk Cooling Vat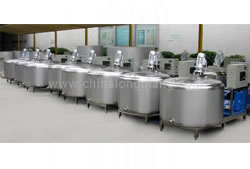 Milk cooling tanks are widely used in small-scale farm or small collection centrals and small dairy farm.
They are designed with compact structure and reliable micro-electrician control. The volume of tanks is 300L-1000L, and the cooler can effectively lower the temperature from 35 degree Celsius to 4 degree Celsius in three hours. We can also design custom milk cooling tank according to customer's requirement.
Wenzhou Longqiang Dairy Machinery Factory is a China-based, professional milk cooling tank manufacturer, in operation since 1984. We devote ourselves to manufacturing high quality dairy process equipment strictly according to ISO series quality management system. Our products, such as milk production lines, ice cream production lines, water production lines, sterilizers, stainless steel vessels and filtering equipment, and more, have high quality and competitive prices, and they are exported to Malaysia, Myanmar, Vietnam, Nepal, the United Arab Emirates and many other countries.
For orders and inquiries, please feel free to contact us. We look forward to working with you.