Crystallization Tank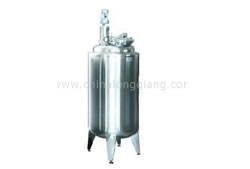 1. Crystallization tank (Fermentation tank, seed tank) is widely used in pharmaceutical, fine chemical, biological engineering and dairy industries.
2. It is designed with jacket (for cooling and heating) and an insulation layer. The inner surface of the crystallization tank is mirror finished with fineness Ra≤0.4цm, no dead corner.
3. Whole-enclosed design ensures that materials are always mixed and ferment at non-pollution state.
4. This crystallization tank is equipped with devices like air respirator, cleaning ball, sanitation manhole, viewing mirror and viewing light.
5. The fermentation process of pharmacy, fine chemical engineering and biological products is aseptic and untainted. The crystallization or fermentation tank adopts aseptic system which helps avoid microorganism pollution in the air and greatly extends quality warranty period and purity of the products.
6. This tank is especially designed and installed with aseptic respirator or aseptic normal pressure fermentation system.
7. The parts contacted with material are all made using SUS304 or SUS316. Heat preservation material is made from polyurethane foam or pearl cotton.
8. External surface is matt finished.
9. Volume has different specifications ranging from 100-20000L.
Note: we can design custom crystallization tank according to customer's requirement.
Technical parameter
Model Specification
100L
200L
500L
1000L
2000L
5000L
10000L
20000L
Diameter (mm)
400
500
700
900
1200
1500
1800
2300
Height (mm)
2000
2300
2650
2900
3800
4480
5250
6550
Pressure in the tank (Mpa)
0.2
0.2
0.2
0.2
0.2
0.2
0.2
0.2
Pressure in the jacket (Mpa)
0.3
0.3
0.3
0.3
0.3
0.3
Tube0.3
Tube0.3
Blade
2
2
2
2
2
3
3
4
Rotary speed (r/min)
80
Motor power (Kw)
0.55
0.75
1.1
1.5
3
5.5
7.5
7.5
Cooling method
Jacket
Coil
As an ISO9001:2008 approved professional crystallization tank manufacturer based in China, we specialize in manufacturing dairy, beverage production lines, biopharmaceutical production lines, mineral water production lines, food sterilization equipment, extraction tanks, concentration equipment and filtering equipment, and so on. Our products are of high quality and reasonable price, and have attracted many clients locally and globally.
For more information, please feel free to contact us for a consultation at Wenzhou Longqiang Dairy Machinery Factory. We look forward to providing complete service to you.
Note: we can design the crystallization tank according to customer's requirement.
Other Food Process Equipment
Alcohol Deposition Tank The alcohol deposition tank is made of stainless steel. It is equipped with automatic high-pressure water spray cleaning system and explosion-proof motor. It is designed with a jacket for cooling.