Stainless Steel Wine Tank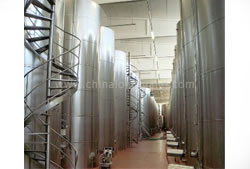 Our stainless steel wine tanks are mainly used in wine industry. They are made of high quality stainless steel, resulting in high corrosion resistant and hardness. Besides, our tanks have good sealing performance, and are hygienic and durable.
Also, we can design custom tank according to customer's requirement.
Wenzhou Longqiang Dairy Machinery Factory is a professional stainless steel wine tank manufacturer based in China. We are located in Wenzhou City, the coastal city of East China Sea, where we have access to convenient transportation by sea, land and air. As a result, our purchasing cost can be greatly reduced here, as well the shipping fees for customers. Our dairy process equipment, beverage production lines, water production lines, biopharmaceutical production lines, food sterilization equipment, stainless steel vessels and filtering equipment, and more, has high quality and reasonable price. They enjoy warm popularity among customers from all over the world.
We are certain you will be satisfied with your purchased. For purchase, please feel free to contact us.