Lateral Spray Retort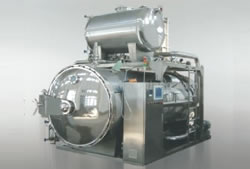 Characteristics
1. The temperature inside the lateral spray retort is steady and the heating distribution is uniform.
In order to ensure uniform temperature and heat distribution, we install 3 fan-shaped nozzles at the both sides of the tray inside the retort and the nozzles spray the hot water in fan shape uniformly, letting the material in the every tray being heated uniformly and keeping the inside temperature at an expected level during the sterilization processing. Thus, we can make sure the stability of F value and reduce the possibility of over cooking to the minimum.
2. Quick heating
There is little circulating water inside, and the lateral spray retort adopts high efficient heat exchanger. So the temperature of food product will rise soon. Commonly, the water temperature will rise from 20℃to 121℃ in 10-15 minutes, which helps preserve the food product's flavor and color, and reduce the energy consumption as well.
3. Indirect heating and cooling prevents the secondary pollution
The circulating water will be heated or cooled through the plate type heat exchanger. Meantime, the water will be continuously cooled by the plate heat exchanger until the expected sterilization processing is done, effectively preventing the secondary pollution.
4. This lateral spray retort is applicable for different packages
During the whole sterilization, the sterilization mode can be divided into single period mode and multi period mode, meeting different sterilization requirement of different packages.
5. Complete pressure control system makes this lateral spray retort applicable for the sterilization of packages containing gas.
Accurate pressure controlling, with an error less than 0.005Mpa. The temperature and pressure inside the tank will be inspected continuously. The controlling system will adjust the interior tank pressure in order to make it equal to the pressure inside the packages.
Hence, our lateral spray retort is applicable for the packages with or without gas inside, which is beneficial to prevent distortion and damages of containers.
6. Controlling system
A. Siemens touching screen (Optional)
B. Paperless recorder (Optional)
C. The imported automatic valve (Optional)
D. Analog temperature, pressure controlling system, sterilization temperature (±0.5℃), pressure (±0.005Mpa).
E. There are various sterilization modes pre-set for choose. There are a maximum of 250 sterilization formulas available.
F. The whole sterilization processing is fully automated, so our lateral spray retort is a labor saving and cost saving sterilization solution.
7. F value measuring function (Optional)
Each set of lateral spray retort could be designed with F value measuring function. Being treated by the data processing software, all the sterilization data, including sterilization condition, F value, time-temperature curve and time-pressure curve will be saved or printed, which offers convenience to production management.
Technical Parameters
Item
Unit
Specification
Diameter of tank body
mm
¢1300
¢1500
¢500/800
Number of basket
4
4
1/2
Maximum working pressure
Mpa
0.35
0.35
0.35
Maximum working temperature
℃
137
137
137
Steam pressure
Mpa
0.6
0.6
0.6
Steam Consumption
Kg/ cycle
300
350
Cooling water pressure
Mpa
0.3
0.3
/
Cooling water consumption
M3/ cycle
5~10
8~12
/
Compressed air consumption
M3/min
0.6~1.0
0.8~12
/
Power
KW
15
20
Dimension
LxWxH(mm)
5600x2000x3700
5600x2200x4100
Note: we can design retort according to customer's request.

Longqiang Dairy Machinery Factory is a professional lateral spray retort manufacturer based in China. We can not only provide high quality, economically priced dairy process equipment, such as milk production lines, ice cream production lines, sterilizers, filtering equipment, and stainless steel vessels, etc., but also offer complete service to you. In addition, our technicians can design custom equipment in accordance with customers' requirements.
If you are interested in our products, please feel free to contact us for a consultation at Longqiang Dairy Machinery Factory. We look forward to working with you.